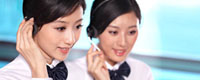 Name: Catherine Chang
Tel: +86-22-60688057
Fax: +86-22-58136206
E-mail: info@unionpro.cn
Add: 1-5206,A zone, No. 6 huafeng road, Huaming Industrial Park,Dongli, Tianjin


Product name : Vortex Vegetable Washing Line

Product No. : VAB1800
Details:
Application:
Use for washing leaf, root and other vegetables and fruits such as cabbage, lettuce, spinach, radish, turnip and so on. (100% cleaning)
Feature:
1. Echelon dual cylinder design with high strength SUS304 stainless steel plate, 3D seamless bending technology.
2. V - shaped cylinder bottom structure, automatically settling silt.
3. Rotary washing, 360 degree and 5 times cycling rolling-over massage cleaning. The water swirled the vegetables.
4. Swirl buffered to delivery out vegetables, non chain belt transmission, longer effective cleaning time, more space for cleaning, no areas are out of sight.
5. Adopt off-ground design at high cylinder block, convenient for cleaning and maintenance.
6. Double filtration, fine filtration of hair, worms, vegetable chips, and purify the water.
The whole machine is easy to operate, clean and work stable with high efficiency and save labour force.