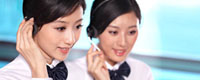 Name: Catherine Chang
Tel: +86-22-60688057
Fax: +86-22-58136206
E-mail: info@unionpro.cn
Add: 1-5206,A zone, No. 6 huafeng road, Huaming Industrial Park,Dongli, Tianjin


Product name : Air Bubble Vegetable Washing Machine

Product No. : ABW220/ABW320/ABW320S/ABW420
Details:
Application:

Washing leafy vegetable and fruits such as cabbage, celery, onion, spinach, broccoli, lettuce, tomato, fungus and so on. (100% cleaning)
Feature:
1. Frame and body is all made of high quality SUS 304 stainless steel which has good appearance and meet food hygienic requirements.
2. Using double cleaning by the bubbling of the high pressure gas and the water spray at the lift, effective separation the adhesion of sediment and impurities on vegetables, and through the percolation network to intercept.
3. The spray and high pressure nozzle continuous supply water during washing process, water supply adjustable, it is convenient for customers to adjust according to the quantity of vegetable treatment and the degree of cleanliness.
4. There are a number of air conditioning valves, the air volume of fan can be adjusted independently.
5. Ozone sterilization function is more effective to clean the residual pesticides of fruits and vegetables.
6. The electric box has a conveyor belt governor, which can adjust the running speed of the conveyor belt according to the actual needs.
7. Fast food delivery function, when the washing work is completed, press the pump to start, and the dish is delivered to the conveyor belt quickly.

Our high quality brush has far longer service life than common material brush which other one supplies. Some other brush is only can work half a year, ours can work 3~5 years!
And we also have multifunction machine sets for your choice. All machine can be customized according to customer's requirements.