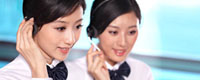 Name: Catherine Chang
Tel: +86-22-60688057
Fax: +86-22-58136206
E-mail: info@unionpro.cn
Add: 1-5206,A zone, No. 6 huafeng road, Huaming Industrial Park,Dongli, Tianjin


Product name : Continuously Vegetable Washing Line

Product No. : VWL1000
Details:
Application:
Washing leaf vegetables such as cabbage, celery, onion, spinach, broccoli, lettuce, tomato, fungus and so on. (100% cleaning)
Standard Configuration:
Intelligent programmable control system
99 programs are available for any choice
Automatic water purification cycle system
Automatic temperature control back-off system
Safe frequency control and conveying system
Feature:
Angle and height of elevating can be adjusted.
Wheels was set at the bottom, easy and quick for moving.
Equipped with food grade conveyor belt, easy to disassemble parts.
Activities side panels on prewash elevator, quick disassemble belt for easy cleaning.
Frame and body is all made of high quality SS304 stainless steel which has good appearance and meet food hygienic requirements.
Low noise, low energy consumption and high efficiency.
Prolong the washing length and make the vegetables cleaner.
Agricultural products can be fully automatic cleaning standardize and scale.
This machine forms spiral water flow to wash vegetables,and adopts the principle of high pressure bubble water bath shock wave cleaning, strong cleaning ability to make bactericidal, clean, and non destructive ingredient of food.
Model:

VWL1000

Overall Dimensions:

5800*1100*1800mm

Capacity:

600-1000kg/hour

(can be customized according to customer's requirements)

Power:

380V, 7.5kw

Weight:

500kg