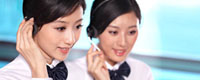 Name: Catherine Chang
Tel: +86-22-60688057
Fax: +86-22-58136206
E-mail: info@unionpro.cn
Add: 1-5206,A zone, No. 6 huafeng road, Huaming Industrial Park,Dongli, Tianjin


Product name : Dual Stage Screw Parallel Unit

Product No. : UP
Details:
Application:
Two stage screw rack is specially designed for IQF / Dual spiral / blast freezing and any low temperature application. The efficiency of two stage screw is much higher than single stage screw, especially when the evaporating temp. is lower than -40C, the energy saving percentage against single stage screw will get bigger when the evaporating temperature is getting lower.
We are able to supply Freon screw equipment which can meet 3-4 ton IQF or dual spiral application.
Feature:
We uses Kobelco two stage screw compressor with Inverter control as option, each single Kobelco inverter compressor can reach 25-100% operation range.
R22 / R404A, evaporative condensing / water cooled are available.