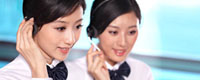 Name: Catherine Chang
Tel: +86-22-60688057
Fax: +86-22-58136206
E-mail: info@unionpro.cn
Add: 1-5206,A zone, No. 6 huafeng road, Huaming Industrial Park,Dongli, Tianjin


Product name : Air Cooled Condenser

Product No. : UP
Details:
Application:
Our condenser has been widely used in China high-end market, especially in hyper-market application from early 2006. Many well-known global retailers in China and big local retailers are using or have used our condensers.
Feature:
Floating tube design which prevents copper tube from contacting metal plate directly, brings down the leakage to the lowest level.
Robust and aesthetic sheet metal design, Ziehl-abegg dual speed owl type fan, low noise, high air volume…etc.
Vertical or horizontal air flow can be applied for the same condenser.
Provide various frequency control technologies to further bring down the noise and energy consumption for customers.
We supply dry cooler also which shares the same technologies with condensers, however, it is specially designed for water or glycol, copper tube or stainless steel tube are available.