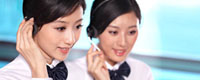 Name: Catherine Chang
Tel: +86-22-60688057
Fax: +86-22-58136206
E-mail: info@unionpro.cn
Add: 1-5206,A zone, No. 6 huafeng road, Huaming Industrial Park,Dongli, Tianjin


Product name : Tray Type Modified Atmosphere Packing Machine

Product No. : MAP-Z2
Details:
Description:
Modified Atmosphere Packaging, which is a new type keeping fresh technology for food, which adopts protection mixed gas(usually is CO2, N2, O2) to replacement the air of the inner package, taking advantage of every kind of protection gas makes different functions, for restrain the major microorganism breed that cause the food go bad, and make live food (fruits, vegetables and plant food) breath speed lowered, thus make food keeping fresh and prolong the period of keeping fresh. The food adopts Modified Atmosphere Packaging that can be better keep the original color, taste, appearance and nutrition ingredient.

Application:
This machine is extensive to be applicable to: the raw meat, boiled meat products, sea food, fruits, vegetables, dried food and nuts which supermarket seals. The modified atmosphere packaging has some feature, as keeping quality, fresh, color, appearance and taste, is fashionable European and American market.

Advantage:
1. It adopts electricity, pressure and machine for control, being held by programmable controller(PLC) match touching screen to realize the man-machine interface dialogue, each part action and control parameter all can be set up and modification by PLC. Control is convenient and dependable, and the rate of breakdown is low.
2. After filled package lead to the convey mechanism, can continue to finish automatically: vacuum, fill in gas-heating press to seal-slice-packing the finished product ejects working procedure, automatical degree is high, producing efficiency is high.
3. Photoelectricity follows to cover the film pattern, make sure package printing pattern completely; it has the protect function of no cover will stop, to guarantee the quality of finished product.
4. The main parts and frame are made by stainless steel, matching the food hygiene request.
5. Mould shape can according to the customer's package to produce.