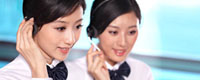 Name: Catherine Chang
Tel: +86-22-60688057
Fax: +86-22-58136206
E-mail: info@unionpro.cn
Add: 1-5206,A zone, No. 6 huafeng road, Huaming Industrial Park,Dongli, Tianjin


Product name : Pneumatic Ham Stuffer with Stretching Clipper for Meat Stock, Mutton Rolls, Beef Rolls

Product No. : HF00/PC00
Details:
Application:
Pneumatic meat block filling machine is the latest development of meat filling machine in our company. Compared with domestic products, it has many advantages, such as fast working speed, easy maintenance, easy cleaning, pneumatic control, safety and health and so on.
The machine can fill large meat pieces, and cooperate with pneumatic stretching sealing machine to better improve the produce processing.

Features:
1.Fully automatic filling machine can be used with the meat roll pull machine, which can replace the operation of manual filling
2.The shape is beautiful, the standard is uniform, the fill is strong and full
3.The machine is all-stainless steel body and adopts pneumatic control
4.Safety and hygiene, easy operation, increase productivity while saving productivity labor cost
5.After the packaging of the pre-installed product is clamped tightly in the cylinder, the casing is pulled up to the request by the drawing cylinder, which can be clamped up and cut off
6.The diameter of cylinder cylinder can be customized according to customer's product, the machine is widely applicable to pig beef and mutton roll forming, ham and sausage filling etc.
Semi-Automatic Pneumatic Clipper:
This machine is widely used in rolling mutton, filling ham and other products;
Tension set new punch punch machine; sealing strong, good sealing;
The casing to tighten the requirements, you can punch seal and automatically cut off;
Full product degree can always adjust.

| | |
| --- | --- |
| Model | HF00 |
| Processing Capacity | 0.5~5kg/tank |
| Casing | Φ130~230mm |
| Vacuum Rate | 200~600 Kpa |
| External Size | 1860*315*255mm |
| Machine Weight | approx. 300kg |