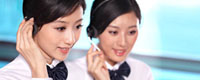 Name: Catherine Chang
Tel: +86-22-60688057
Fax: +86-22-58136206
E-mail: info@unionpro.cn
Add: 1-5206,A zone, No. 6 huafeng road, Huaming Industrial Park,Dongli, Tianjin


Product name : Pulverizer(grinder group)

Product No. : 20B-60B
Details:
Application:
This pulverizer(grinder group) has wide application and is widely used for pharmaceutical industry, chemical industry, pesticide industry foodstuff industry, grain industry, and so on.
Feature:
Simple structure, runs steady, high crushed efficiency.
Changing different mesh screen controls granule size.
Stainless steel structure.
Machine inner wall is processed finely.
Grinder group consists of pulverizer, EXC collector and ESC dust collector. It avoids flying dust during crushing.(Optional)
Technical Parameter for Pulverizer
| | | | | | |
| --- | --- | --- | --- | --- | --- |
| Item | Unit | 20B | 30B | 40B | 60B |
| Productive Capacity | Kg/h | 60-150 | 100-300 | 160-800 | 500-1500 |
| Speed of Main Shaft | R/min | 4500 | 3800 | 3400 | 2800 |
| Feeding Granule Size | mm | 6 | 10 | 12 | 15 |
| Fitness of Pulverization | mesh | 60-150 | 60-120 | 60-120 | 60-120 |
| Motor power | kw | 4 | 5.5 | 11 | 15 |
| Fan power | kw | 1.5 | 1.5 | 1.5 | 2.2 |
| Weight | kg | 250 | 320 | 550 | 680 |
| Overall Dimension | mm | 550x600x1250 | 600x700x1450 | 800x700x1450 | 1000x900x1680 |
| Overall Dimension | mm | 1100x600x1650 | 1200x650x1650 | 1200x650x1650 | 1550x1000x1750 |