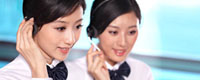 Name: Catherine Chang
Tel: +86-22-60688057
Fax: +86-22-58136206
E-mail: info@unionpro.cn
Add: 1-5206,A zone, No. 6 huafeng road, Huaming Industrial Park,Dongli, Tianjin


Product name : cooling conveyor

Product No. : CP series
Details:
Application:
It is used to be connected between the frying machine and the instant freezing machine, it blows air to the surface of the products, reduce the temperature of the surface products in order to deduct the load of the freezing machine and save the power.
Feature:
Mesh belt is made of stainless steel SS304.
400mm or 600mm width conveyor.
Complete stainless steel SUS304 structure
Equipped with axial flow fans for cooling foods that is going to enter quick freezing machine.