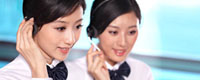 Name: Catherine Chang
Tel: +86-22-60688057
Fax: +86-22-58136206
E-mail: info@unionpro.cn
Add: 1-5206,A zone, No. 6 huafeng road, Huaming Industrial Park,Dongli, Tianjin


Product name : Horizontal Cooling Transporting Conveyor

Product No. : CC-CT Series
Details:
Application:
Connect with quick freezing machine or connect two other machines. Carry food for precooling or transport.
Feature:
Mesh belt is made of stainless steel SS304 or food grade plastic.
Customizable. Fit every product and processing line.
Horizontal, slant or circular model, with flexible design.
Complete stainless steel SUS304 structure
Extremely flat conveyor ensures minimum marks on food.
Retention time is adjustable.